Mississippi's Only ROUSH Performance Dealer Is Astro Ford
Is revving up your wild side and unleashing your inner speed demon on the roads of Biloxi your biggest desire? Then you have come to the right place. As the leading ROUSH dealer in the Biloxi MS area, Astro Ford has the finest selection of ROUSH Mustangs and F-150s around – in addition to the expertise and know-how needed to pair you up with the perfect performance ROUSH vehicle for your unique needs.
Now that you are up to speed with the Astro Ford difference and our commitment to being the ultimate purveyor of ROUSH offerings here in Biloxi, let's take a few minutes to get to know why ROUSH stands alone in the performance category and which ROUSH Mustang or F-150 is right for you. After doing this, we know it won't be long before you find yourself at the helm of one of these premium vehicles and putting the pedal to the metal on the streets and highways of Biloxi.
ROUSH: A History Of Unparalleled Power And Performance
What better place is there to start your journey toward owning a ROUSH Mustang or F-150 of your own than with a look at the heritage and history behind America's leading performance brand? With this in mind, let's start at the source: The man himself, Jack Roush.
Born with a need to build the fastest hot rods and race cars around, Roush's unyielding need for speed has led to a career unlike any other. Serving as an iconic American engineer, the all-time leader in wins as an owner in NASCAR, and a member of both the NASCAR and Automotive Halls of Fame, it is safe to say that no one in the world knows more about high-octane excitement than Jack Roush.
In 1995, this expertise officially materialized as the ROUSH Performance Products company. Today, ROUSH Performance Products offers up the finest selection of high-powered crate engines, aftermarket parts, and custom performance vehicles. When paired with the fact that ROUSH aftermarket parts seamlessly fuse together the reliability of original equipment manufacturer (OEM) components and Jack Roush's decades of racing experience, it is safe to say that these offerings are in a class all on their own.
Which ROUSH Performance Vehicle Is Right For You?
So what does this mean for all of the gearheads here in Biloxi? Once you pair up the inimitable power found in ROUSH vehicles with Astro Ford's constant commitment to your satisfaction and providing you with access to all of these vehicles, you can shop with confidence knowing that the perfect ROUSH performance Mustang or F-150 is waiting for you on our lot right now, all at a fair price.
Speaking of selection, know is a good time to get to know the ROUSH lineup a little better. After reviewing these options, you will have a better idea of which ROUSH Mustang or F-150 slots into your time spent on Biloxi roads.
Pure Power Starts With The ROUSH Stage 1 Mustang
First up is the potent lead-off hitter of the ROUSH team, the Stage 1 Mustang. Offering up 310 horsepower (hp) and 350 pound-feet (lb.-ft.) of torque via its turbocharged 2.3-liter (L) motor, this Mustang knows how to maximize EcoBoost technology and its race-inspired heritage to get your adrenaline pumping. Adding in a stainless steel exhaust system and ROUSH's R8 aero package (featuring a high-flow upper grille and wider lower grille) ensures that airflow and downforce are always optimized when you open up the throttle on the highways of Biloxi.
Reach New Heights With The ROUSH Stage 2 Mustang
With access to the all-new ROUSH-calibrated MagneRide suspension system, as well as Continental ExtremeContact Sport tires on 20-in. jet black wheels, the ROUSH Stage 2 Mustang is the perfect example of what true automotive perfection can look like as you attack each corner and turn here in Biloxi. Oh, and did we mention that this muscle car also offers up 460 hp via its dominant sport-tuned motor? With this kind of power on your side, you can shift into high gear with confidence knowing that you have no equal on the interstate or the race track.
Elevate Your Excitement With The Stunning ROUSH Stage 3 Mustang
Born to stand as the ultimate Mustang, the ROUSH Stage 3 offering leverages the power of a Phase 2 Supercharger to generate an amazing 750 hp and 670 lb.-ft. of torque. If that wasn't enough, upgrading to the optional ROUSH Active Exhaust System or Aerodynamic Carbon Fiber Wing is the perfect way to add in a little flair to your driving experience as you take the roads of Biloxi and its surrounding areas by storm – all while ensuring you get the absolute most power and performance out of this top of the line muscle car competitor.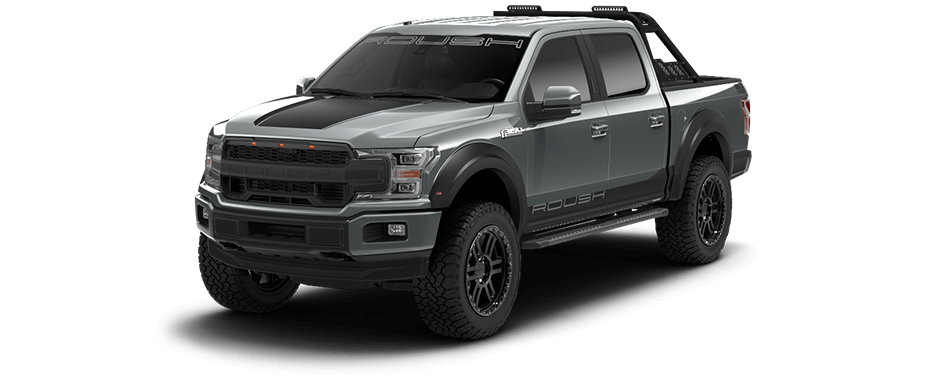 Explore New Trails With The ROUSH F-150
No path is off limits when you have the power of the ROUSH F-150 at your disposal. By incorporating the Fox 2.0 off-road suspension system and lift kit, you can enjoy new levels of clearance and a bold, aggressive profile that puts the competition to shame. Similarly, the ROUSH Dual Tip Active Exhaust System (featuring ROUSH Performance valve technology) equips you with the power to switch between Touring, Off-Road, Sport, and Custom modes right from a console-mounted dial. This means that finding the right exhaust settings for your next adventure has never been easier when you are behind the wheel of the ROUSH F-150.
Speed Is Never In Short Supply With The Roush F-150 Nitemare
Designed as the worst nightmare for competitors in the performance truck segment, the ROUSH F-150 Nitemare is the fastest production truck in the ROUSH lineup. Our course, when you offer a ROUSH-supercharged 650 hp V8, living up to this top billing is really just par for the course. Outside of leaving other performance trucks in the dust, the Nitemare also turns heads thanks to its unique appearance, featuring a lowered suspension, custom 22-in. wheels, and five exciting color options from which owners can choose to customize this one-of-a-kind offering.
Lead The Pack With The ROUSH Super Duty
Enjoying all of your favorite outdoor activities, from finishing that home project you've been wanting to knock out to hauling a boat out to the lake for a few hours of peace and serenity on the water, has never been easier thanks to the ROUSH Super Duty. Of course, when you have access to best-in-class towing and payload, high-performance off-road suspension, all-terrain tires, and custom rims featuring built-in bead protection, turning these dreams into a reality is all just in a day's work for this leading pickup. On top of all of this, you can also drive with confidence knowing that you'll be the talk of Biloxi thanks to the ROUSH Super Duty's bold front grille, stylish body-color fender flares, and unique accent lighting.
Let The Astro Ford Team Help You Today
The most exciting part about all of this? What we have covered here is just a sampling of what ROUSH Ford Mustangs and F-150s have to offer to discerning drivers here in Biloxi. If you want to learn even more about these offerings, feel free to give us a call at (855) 322-5745 or fill out the form found on this page. Regardless of which option you prefer, we know it is only a matter of time before one of our ROUSH Ford experts has you strapped in and test driving the ROUSH Mustang or F-150 of your dreams.